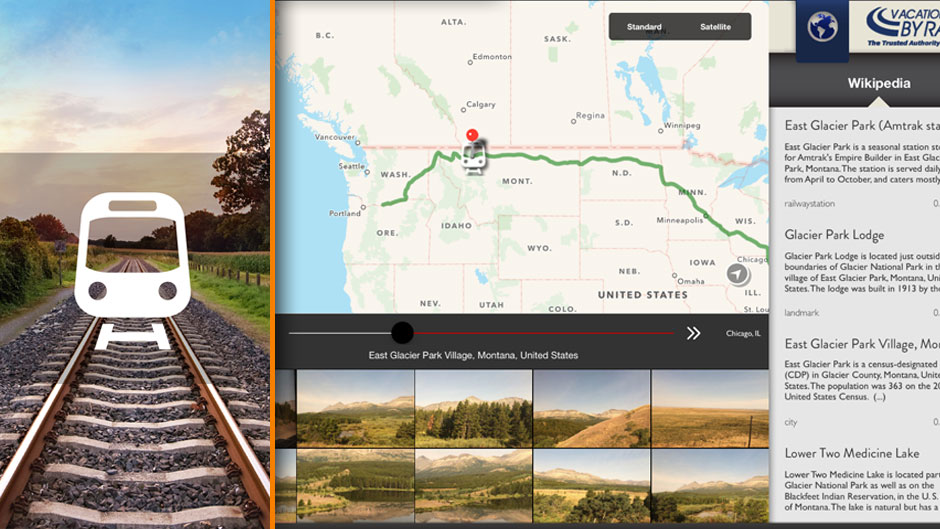 Whether you're anticipating your rail adventure across America's western frontier and the points of interest along your route, or you simply wish to brush up on the history behind some of the USA's most iconic rail routes, Vacations By Rail's new Window Trip: Rail Journeys App offers unique insights and more.
App Highlights Include:
Route Maps in both standard and satellite views. Move the train forward using Route Runner, a virtual pushpin that allows you to access content on destinations throughout the route.
Route Guide provides in-depth details on points of interest along the train route.
Trip Info including history and highlights of the route.
See Photos along your rail route to get a better sense of what you will be seeing from the train.
My Favorites allows travelers to save descriptions and other route details, which can be easily accessed during and after the journey.
The free Window Trip: Rail Journeys App showcases journeys on the California Zephyr route (between Chicago and San Francisco), Empire Builder (between Chicago and Seattle), Southwest Chief (between Chicago and Los Angeles) routes, and more.
Red Foundry worked hand in hand with Vacations By Rails to design, build, test, and launch this app featuring localized, route-based content and more.  With geo-mapped images and content from around the web plus enhanced content curated by the Vacation By Rails team, you won't miss any amazing points of interest.  Another great travel app from Red Foundry.