These days, businesses need to be mobile. Startups are founded with the intent of offering mobile-based services and apps that earn their portion of the $60 billion in global app revenue. Even businesses that do not generate revenue from mobile applications experience greater productivity and earning power when they decide to "mobilize their business." Increasingly, companies that aren't taking advantage of their own custom mobile apps are falling behind the curve. With 67% of small businesses expected to have built their own app by the end of last year, it's important to partner with a top app developer capable of helping your business grow and achieve enterprise objectives.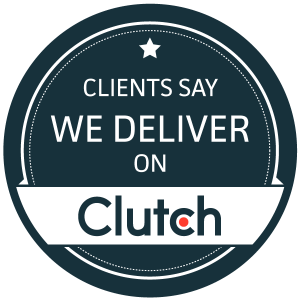 How We Earn Recognition as a Top Chicago App Developer
Recently, feedback and reviews from numerous satisfied clients on the Clutch rating platform boosted Red Foundry's ranking among top Chicago app developers. We were honored to be included among Clutch's Chicago Leaders Matrix, which spotlights the best of the best from among 7,000 reviewed companies. Plus, we were included in Clutch's Top-Ranked Creative and Design Agencies and Developers in Chicago in 2018 for our UI/UX, iOS, Android, and overall Mobile Development expertise. What exactly does that mean from a practical standpoint?
We're Consultative – At Red Foundry, we approach every project with a "client first" mentality. We get to know clients' operations, goals, and pain points so that each custom-designed app is monetized to the fullest extent.
We're All-Inclusive – We've had the pleasure of working with large and small clients across a multitude of industries, combining our business perspective and technical expertise in every app we build.
We're Efficient – We don't think it's necessary to reinvent the wheel every time we build an application. Our Solution Accelerator software components and libraries have been tested and proven in hundreds of apps worldwide, which significantly reduces project delivery risk so your app will begin to earn you money faster.
What Our Clients Have to Say:
We take pride in every app we make, from photo apps and wine tasting guides to large-scale corporate applications. Most importantly, our clients are proud of them too. Here are some of the perspectives that our clients shared with Clutch to help us rank so highly:
"The Red Foundry estimation with regard to deadlines was incredibly accurate, and as someone with over 25 years of development experience, I know that is no simple task. Red Foundry did what they said they would in the time that they predicted, and they completed it at the cost for which they quoted us in the initial statement of work."
"The Red Foundry team was very friendly and easy to work with. They are extremely knowledgeable about coding and app platforms."
"They were very organized and worked overtime as needed to meet project deadlines. They made the process easy to understand, so I could focus on managing the company and not on the technology aspects of my business."
"I appreciated their willingness to explain how things work."
We've always loved having a close, collaborative relationship with our clients and are proud to see they appreciate it too. As we continue to work with new clients and collect additional Clutch client reviews, we're excited to rise in the ranks of Clutch's Chicago Leaders Matrix and prove our worth as a top Chicago app developer.
Want to see what it takes to mobilize your business? Contact us